Life at Mount Vernon Before the Presidency
Family Life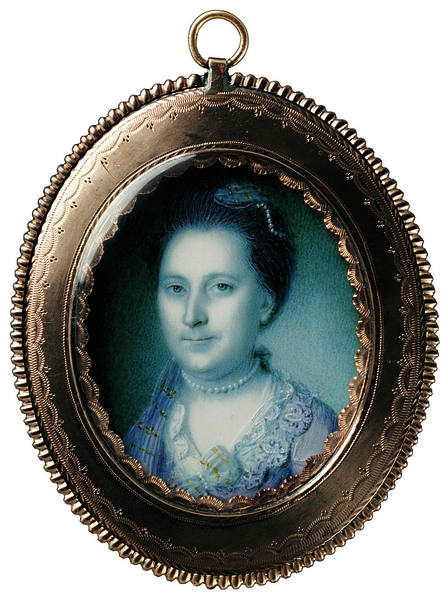 Although Martha adored her husband, she was not overly deferential to him. It is said that when Martha, more than a foot shorter than George, wanted to get his attention, she pulled on his shirt collar to bring his face down to her level.
Marital Relationship
Martha Dandridge Custis's fortune catapulted George Washington into the top ranks of Virginia planters. Immediately after their marriage, the family remained in Williamsburg and at the Custis house in New Kent County. By April 1759, however, they headed northward to their new home at Mount Vernon, which was still in the process of renovation. Leaving the Dandridge relatives behind must have been difficult for Martha but she was anxious to begin a new chapter in her life.
The attraction between George and Martha deepened over time and developed into a mutually abiding affection, admiration, and respect. Although Martha adored her husband, she was not overly deferential to him. It is said that when Martha, more than a foot shorter than George, wanted to get his attention, she pulled on his shirt collar to bring his face down to her level. By all accounts, George was a thoughtful and loyal husband who enjoyed his wife's company, respected her opinions, and sought to please her in whatever ways he could.
Children and Slaves
The household at Mount Vernon included the twelve house slaves that Martha brought from the Custis home in New Kent County. Their presence made it possible for Martha to entertain in the genteel manner expected of the Virginia gentry. Despite their lack of civil or economic status, these slaves were considered, in the parlance of the time, to be members of Washington's domestic "family."
Much of Martha's life revolved around her two young children from her first marriage, John Parke Custis (Jacky) and Martha Parke Custis (Patsy), both of whom were under five years old. Martha adored the children and tended to their every need.
George was a doting stepfather. He took joy in Martha's children and treated them as his own. He ordered the latest toys from London for them and carefully managed their estate so as to secure their financial future. Although Martha was only in her late twenties when she married George, she would not give birth to any more children. This must have been a disappointment to them both.
Children's Education
Both Martha and George played a role in Patsy's and Jacky's education. Martha supervised their early instruction, teaching the children to read. She also hired tutors and other kinds of specialized teachers.
As they grew, their education became more gender-specific. Martha made sure that Patsy learned the feminine skills that would give her an entrée into Virginia society. She learned to play the harpsichord, do fancy needlework, and perform the elaborately choreographed dances of the time.
Jacky was to acquire the skills of a gentleman. He learned to hunt, dance, and speak in public. Beginning in 1761, Walter Magowan, a Scottish tutor, lived at Mt. Vernon in order to provide Jacky with the classical education he would need to attend college.
Illness
Perhaps because she had already lost two children, Martha was especially attentive to and anxious about Jacky and Patsy's health. As with most people at the time, sickness in one form or other was a constant in Martha's life. Because she had the financial resources, Martha often called on physicians for assistance in dealing with these illnesses. She also tried a variety of folk remedies, including herbs, teas, or pastes, in hopes of allaying the children's numerous colds, coughs, fevers, and other afflictions.
Patsy's Death
Neither child lived the long happy life that their parents had hoped for. Around the age of twelve, Patsy started to experience violent seizures, which were characteristic of epilepsy. This condition was virtually untreatable at the time. At one point, Martha, George, and Patsy journeyed to Warm Springs (now Berkeley Springs, West Virginia) in order to rest and take the mineral waters, which were supposed to have medicinal qualities and promote healing and health.
Nothing stopped Patsy's seizures, which grew worse over time. After a particularly violent episode on June 19, 1773, Patsy died at age seventeen. Commenting on his wife's grief-stricken reaction, George Washington observed that this event reduced Martha to "the lowest ebb of [her] Misery."*
Jacky and Eleanor
Other events also impinged on Martha's happiness. In 1768 Jacky, always a lackluster student, was sent away to a boarding school in order to prepare him for college. Through one of his boarding school friends, he met Eleanor Calvert, the lovely young daughter of an old Maryland family. Over time, their friendship blossomed into romance. Shortly before he was to leave for college, Jacky and Eleanor became secretly engaged.
Washington was outraged; Martha was delighted. At George's insistence, the marriage was postponed and Jacky went off to King's College (now Columbia University) in New York. Soon, however, Martha persuaded Washington to let Jacky leave school for good. On February 3, 1774, just months after Patsy's death, Jacky, who was just nineteen years old and Eleanor, only sixteen, wed.
Jacky's Death
For several years Jacky and Eleanor, and their four children, did not have a home of their own; they divided their time between Mount Vernon and the Calvert family home, Mount Airy, in Maryland. This arrangement suited Martha well, filling the house with the love and laughter of family members.
Yet this happy interlude was brief. On November 5, 1781, just weeks before he turned twenty-seven, John Parke Custis contracted a virulent illness and died. Once again, an untimely death claimed one of those whom Martha loved best.

*Letter to Burwell Bassett, June 20, 1773 in Diaries of George Washington, Vol. 3, ed. Donald Jackson (Charlottesville, Va.: University Press of Virginia, 1978), III: 188.