The War for Independence
The Patriotic Cause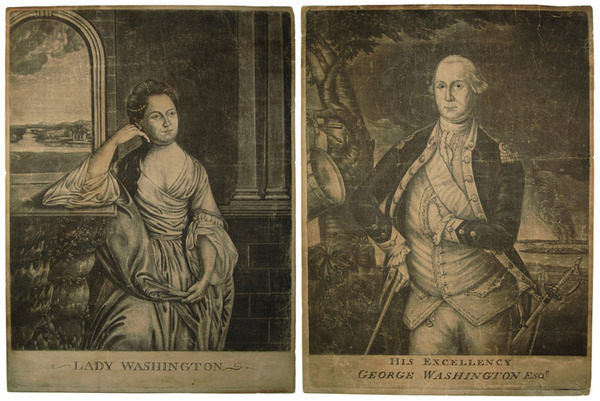 Congress, recognizing the need for self-defense, ordered the creation of a professional army with George Washington as the Commander-in-Chief. This decision would irrevocably alter the course of Martha Washington's life.
Life before the Revolution
During the 1760s, Martha Washington settled comfortably into her role as the wife of a leading Virginia planter. Her life revolved around her home, her family, and her religious faith.
George Washington, on the other hand, always remained active on a larger stage. Like other members of the Virginia gentry, George was expected to serve the public. He did so in many capacities—sitting on the vestry of Truro Parish, acting as a trustee to the town of Alexandria, and being elected several times as a representative for Fairfax County in the House of Burgesses.
The Coming of War
In the 1770s, as tensions with Britain intensified, George Washington grew increasingly militant toward the mother country. He was appointed to represent the colony at both the first and second meetings of the Continental Congress in Philadelphia. In June 1775, after the bloodshed at Lexington and Concord, Congress, recognizing the need for self-defense, ordered the creation of a professional army with George Washington as the Commander-in-Chief. This decision would irrevocably alter the course of Martha Washington's life.
Martha as Symbol
Despite her wishes, Martha was forced to assume a public role as a symbol of the patriot cause. One of the first ways in which Martha's new role transformed her life was that she was now a potential target for British assault.
As early as 1775, the General feared that Martha might be kidnapped by Lord Dunmore, the royal governor of Virginia, and held hostage. For her own safety, Washington urged her to leave Mount Vernon and spend more time visiting family and friends in other locations. Although no kidnapping was actually ever attempted, it was clear that Martha's life, as well as her husband's, was now in danger.
Feting Martha
Martha also became a symbol of the patriot cause in a more positive sense. On her yearly trips northward to stay with George at his winter encampment, she would be celebrated wherever she stopped along the way. Patriots throughout the country wanted to honor the wife of the brave and illustrious General Washington. Dignitaries came out to greet her. Dinners and balls would be held in her honor. Individuals and groups presented her with lavish gifts, including china, jewelry, and even a carriage.
Especially at the war's beginning, Martha was surprised and a little dismayed at the attention she received. After having been feted in Philadelphia, she commented to a friend that she left the city "in as great pomp as if I hade been a very great somebody."* Nonetheless, over time, she adapted to her new prominence and excelled in her new role.
Fundraising for the Troops
Martha's acceptance of her new public role can most clearly be seen in her willingness to participate in a women's fundraising campaign untaken to support the troops. In 1780, Esther DeBerdt Reed, the wife of a Pennsylvania official, published an article in a Philadelphia newspaper calling on women throughout the country to organize into groups that would collect money to support the soldiers of the Continental Army.
These funds would eventually be sent to Martha Washington, who would then turn the money over to her husband for the purchase of shirts, stockings, or other necessities for the army. Martha recommended that Martha Jefferson, wife of Virginia governor Thomas Jefferson, lead the campaign in that state. Women in Pennsylvania, New Jersey, Virginia, and Maryland responded. Martha Washington herself donated the impressive sum of $20,000 (or £6,000) from her own funds to the revolutionary cause.
Patriotic Sacrifices
Perhaps the hardest aspect of Martha Washington's new patriotic role was the expectation that she would be willing to sacrifice the lives of her loved ones for the sake of the country. If independence was to be won, she, like thousands of women throughout the country, had to be willing to allow their husbands and sons to go off to war. For Martha, having already lost one husband to death, this was no doubt an extremely difficult task. Nonetheless, she accepted the risks and embraced the patriotic cause. As it turned out, George Washington, as we know, came through the war unscathed.
The same unfortunately was not true of her only remaining son John Parke (Jacky) Custis. Jacky had spent most of the war at home, tending to his mother, his young wife, and their four young children, but he was anxious to become more involved in the war effort.
Jacky's Death
In October 1781, Jacky begged his parents to allow him to join General Washington as a civilian aide during the siege at Yorktown. Shortly after joining the troops, Jacky contracted what was then known as "camp fever.'' He became extremely ill and was sent to a relative's nearby home to recover.
Unfortunately, his condition continued to deteriorate. Full of dreadful anticipation, Washington sent for his wife. Jacky died on November 5, 1781, at age 26, with Martha, George, his wife Eleanor, and one of his four young children at his side. In losing her son, Martha had made the ultimate sacrifice for her country.


*Martha Washington to Elizabeth Ramsay, December 30, 1775 in "Worthy Partner": The Papers of Martha Washington, ed. Joseph E. Fields (Westport, Ct.: Greenwood Press, 1994), 164.